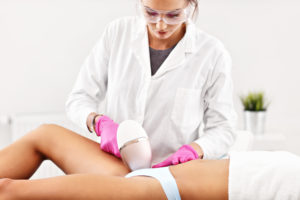 Laser hair removal is an increasingly popular method of removing unwanted hair. With long-lasting results and little maintenance required, laser hair removal can let you ditch the razor for good.
If you're considering this, you may be wondering about the treatment process. One of the most common questions that we receive is whether numbing cream is required. Additionally, patients considering this in the bikini area often inquire about numbing creams for this delicate region. 
Here, we'll clarify the details of numbing cream for laser hair removal so that you can make the best decision for your needs.
Will I Need Numbing Cream?
The process is often described as feeling like rubber bands snapping at the skin. For most patients, this sensation is tolerable without numbing creams. However, our Medical Director is happy to prescribe a safe, effective numbing cream for those who may be a bit more sensitive.
Patented Cooling Mist
At Laser Affair, we use a system with a patented cooling mist that's sprayed onto the skin milliseconds before the laser pulse. This provides comfort throughout laser hair removal and prevents damage to the epidermis (the outer layer of the skin).
Safety For The Bikini Area
Our cooling mist system is safe for use around the bikini area. So, you can feel comfortable and confident throughout your laser hair removal session, knowing that your skin is in good hands.
When you attend a free consultation at Laser Affair, we'll show you how the laser works and perform a few pulses to diffuse any apprehension. Before long, you'll be showing off smooth, beautiful, and hair-free skin!
To schedule your laser hair removal consultation, contact Laser Affair today!